When a customer visits your e-commerce website in search of a product, they get an overwhelming number of results. This can cause more confusion than convenience. 
To help with this having properly optimized product filters allows the customers to find what they are looking for easily. Unfortunately, however, most e-commerce websites fail in this regard, with only 16% providing good eCommerce product filters. 
A good e-commerce product category list can make the navigation on your site seamless. More importantly, an e-commerce filter can match the shopper's intent with the right product results. 
Additionally, they also save the shopper's time which would otherwise be wasted searching for the right product. As a result, it accelerates the checkout process, producing more revenue for your e-commerce store. Therefore, using an optimized e-commerce filter can promote better buying results. It helps narrow down the number of products and makes it more manageable. 
Therefore, here are some tips and strategies to do it right:
    1. Use product filters specific to categories
Using an e-commerce product category list for specific categories is one of the best practices you can implement. To do this right, you need to add the most fundamental product categories. This will provide a more personalized customer experience as well. 
For instance, if you add an online apparel store, sorting each product according to size, gender, and the color is a must. You should also include price, ratings, and brand filters for a more condensed result. 
Under each category, you can group products that meet the set requirements. Take a cue from the e-commerce giant Amazon, which has an elementary and straightforward product category list.
The ecommerce product filters are placed at the left-hand column of an extensive item list. This makes it more transparent and accessible to the consumer. Customers can simply click on any of the filters, and the product menu will show only those that meet the requirements.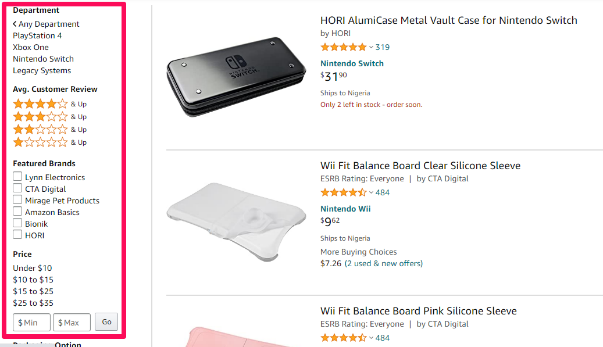 2. Improve the product value with thematic filters
Think beyond category-specific ecommerce product filters and add thematic filters. You can do this by analyzing the product keyword queries. 
For example, electronic devices may have more categories beyond size, color, and other basic criteria. A camera or a microphone can have many variations and purposes. 
You need to provide these filter options for your consumers so they can choose the exact type of product they want. Some products can also intersect between categories, which can add more value to your business. 
H&M is an expert in using thematic filters. The exceptional filtration of their product promotes their brand's storytelling. They have introduced three sets of filters to do this:
Recycle at H&M

Conscious products explained

H&M take care

Not just online retailers, but even online booking services can get inspiration from this. More advanced shoppers, like Nike customers, prefer more advanced product filters based on activity, technology, etc. This is the reason that the sportswear company has such detailed filtering options.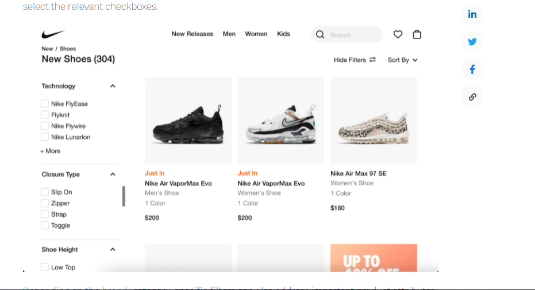 3. Always consider the consumer's viewpoint
Never forget that the primary purpose of the e-commerce product filters is to make your inventory more accessible. So, the filtration and product category must be easy to navigate. One efficient way of doing this is to use the exact terms your shoppers use while searching. 
Therefore, you must gather deep insight regarding the search queries for having a clear understanding of the industry jargon and trends can be beneficial in optimizing your product filters. 
Of course, it is not just limited to texts only, and you can add images too as visual content can go a long way in making your product category list stand out. 
Additionally, when you offer filters based on search terms used by the customers, it makes things more personalized. You can even survey active customers to understand their needs. 
For example Kohl's, the American department store retail chain, provides engaging photos and content that gives more context to the filters.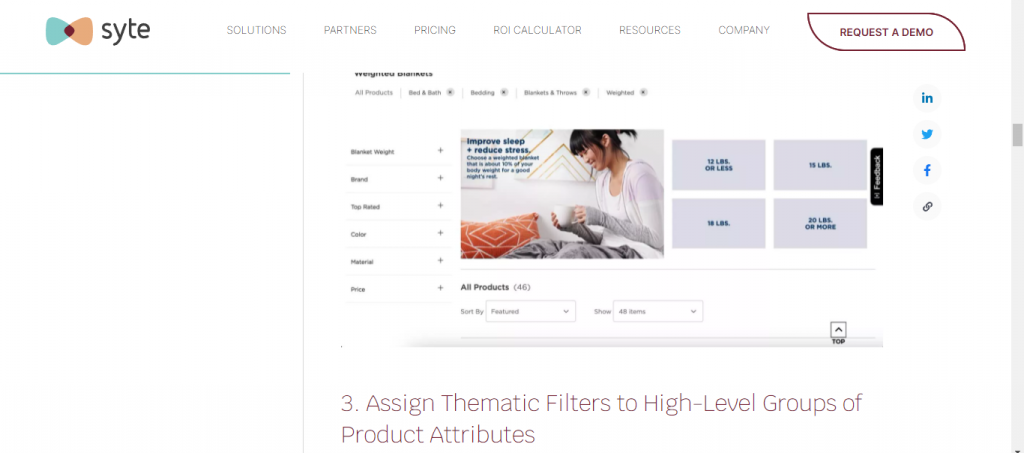 4. Make it easy to change the filters
Often shoppers would try out different ecommerce product filters to narrow down the product list before making their choice. Now, if a consumer has trouble dismissing a filter after viewing the products, then that results in a poor customer experience. 
That is why your e-commerce store should always provide a "Clear all filters" option. This will let the shoppers remove the previous filters if the results do not match their requirements. 
Amazon does this very effectively. Not only are the filters built around the product descriptions, but customers can select and uncheck each filter independently. You can also add a simple 'X' next to the filters so shoppers can click on that to uncheck the filter. 
Another way to do it is to provide a checkbox UI that the shoppers can uncheck one by one.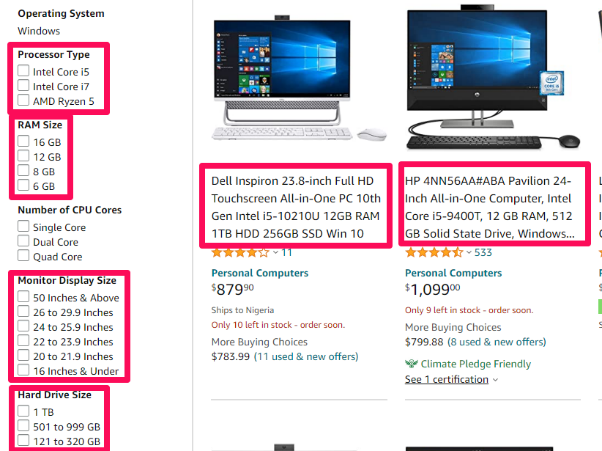 5. Avoid showing zero results
This cannot be emphasized enough! Avoid showing zero results at all times. When shoppers see zero results on your site during their search, it creates the wrong impression. After all, it can be frustrating to go through all the filters and select some, only to find an error or no results. 
That is why you should always have items in your inventory before creating the filters. No matter which combination of filters your consumers try out, you should always have some products to offer. 
Wrapping up
The importance of ecommerce product filters is immense in enhancing the customer experience and even your sites' SEO. So, it is recommended to put some thoughts behind creating them. Once you get the hang of it, a well-optimized e-commerce product category list has the power to boost your sales. 
With the above practices, you can improve your e-commerce filters and categorize products better. So, without further ado, start implementing this strategy today!