Context
In the e-social world, companies are increasingly finding that top-down, command and control organizations are not effective. Hierarchy means very little in an environment where the lowliest employee can leap the organization chart with a single click. Instead, self-organized collections of employees and partners are motivated by a common purpose and are socially empowered to take action. It will make up a successful organization in the future.
What is a self organising company ?
A self organizing company is a "bottom up" company in which employees tackle problems on their own initiative with no top-down direction. This even applies to economic partners elsewhere in a company's ecosystem. Rather than a "hierarchy" it is a kind of organization that Boston Consulting Group's Philip Evans has called a "hyperarchy". He defined it as a "large-scale, self-organizing community that sets free unusually high degrees of energy and engagement. Despite the lack of a clear or direct economic payoff for participants, it continues to be the same."
Example
One example Evans cites has to do with a network of suppliers in Toyota's ecosystem. A fire devastated one of Toyota's tier-one suppliers and threatened to cripple the company's production. Rather than waiting for top-down direction from Toyota this supplier organized a recovery effort by securing the cooperation of several tier-two and tier-three suppliers. He also then shared the blueprints and whatever raw materials had not burned up. The key to their initiative was that all the participants in this self-organized initiative trusted Toyota to do right by them in the end.
Why is self organization popular nowadays ?
Collaborative and social networking technologies make it ever easier for employees, vendors, and other members of the value chain to interact. Hence more and more companies are gravitating toward self organized structures. Rather than formal contracts, hyperarchies use simple rules and transparency to ensure a symmetry of information. This in turn leads to reciprocity, generating a reputation of leadership and trust.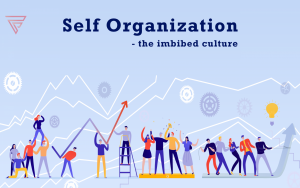 What are the principles of self organization ?
If you want your own firm or business unit to benefit from the principles of self organization, here are a few suggestions :
Autonomy
Your employees (and vendors) need to have a level of autonomy in order to carry out the tasks they need to accomplish. Rather than formal contracts and rules-based metrics for performance, autonomy requires a more collaborative approach, with both bottom-up scoring as well as top-down.
Engagement
A large portion of your employees must be truly engaged in their work for this to succeed. That is, they have to believe in the company's mission and committed to its success. Unfortunately, the vast majority of employees in American work forces are not highly engaged at all, and a substantial portion are actively disengaged. Employee engagement is something every business executive should be familiar with, and my suggestion is that you should take advantage of some of the discussions going on right now in a number of LinkedIn groups.
Empowerment
In addition to engagement and autonomy, you want to be sure your employees, vendors, and other ecosystem partners have the tools, training, and information required to take action, when it is appropriate. Providing autonomy, expecting workers to organize their own problem-solving efforts, and relying on them to initiate their own pursuit of subject-matter mastery can all be thought of as important elements in an employee culture based on trust.
A company following the self organization model
The W.L. Gore company, known primarily for its GORE-TEX brand of high-performance fabrics, generates about $2 billion in sales while employing some 7,000. Privately held, Gore employs an extremely flat, team-centered environment to encourage innovation. Its employees have no formal job titles, other than "Associate," and even salaries are decided collectively. In its own press materials, Gore notes that it has cultivated this unique, autonomous employee culture for more than 50 years now, and that Gore has been included in every edition of Fortune Magazine's '100 Best Companies to Work For' since the list began in 1984, one of only four companies able to claim that distinction.
Gore's unique culture and organizational structure facilitates collaboration and collective creativity, cementing a truly powerful corporate culture. It is a culture that allows the firm to rely on employees without requiring much top-down initiative at all. In James Surowiecki's book Wisdom of Crowds, he quotes one Gore associate. In that he extolls one of the most powerful benefits of a self-organizing culture: peer pressure. "If we are not efficient at a plant, if we are not creating good earnings for the company. The peer pressure is unbelievable. This is what you get when you have small teams, where everybody knows everybody". Customers are more influenced by other customers than by ads, peer pressure. According to this associate, it is many times more powerful than a boss when it comes to performance.
Conclusion
If you take the right approach to self-organization, it will mean de-emphasizing monetary compensation. It denotes concentrating more on far more persuasive intrinsic motivators for most folks who no longer punch a clock. Not that money doesn't matter, but it is not nearly as important as most managers assume. And a self-organizing corporate culture will create value much more efficiently, with much less angst.