A 7-point checklist to maximize eCommerce sales this peak selling season
The holiday season is around the corner, and retailers usually are in full swing to prep for their peak selling season. Ecommerce sales are also through the roof during the last few months of the year with a flurry of flash sales for Diwali, Christmas, and New Year's. 
Surely, customers always look forward to holiday shopping during festivals as multiple platforms conduct big sales with steep discounts.   
The total quantum and value of the eCommerce industry as a whole are on an upward trend, with the Indian market valuing more than $22 billion. Studies say holiday shopping alone may see about $9.2 billion in revenue during the 2021 festive months of October-December alone, a swift rise from $7.4 billion around the same time in 2020. 
While gadgets and fashion previously dominated the numbers, online shopping of groceries has taken a sharp shoot owing to the mobility restrictions of Covid. It's safe to say no matter what your business, it is a good idea to brace yourself to provide a mammoth holiday shopping experience to your customers.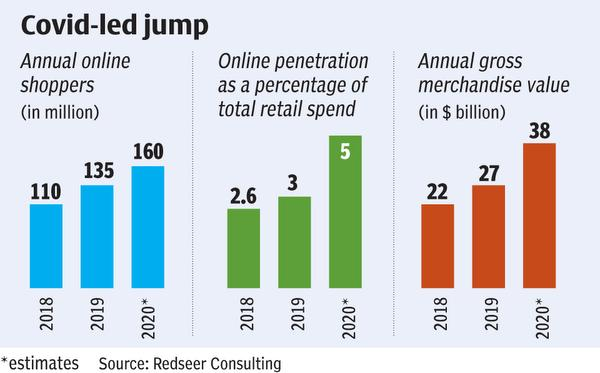 With huge sales targets and traffic to manage, eCommerce platforms need extra measures for smooth sailing. 
Here are a few points to include in your checklist for the upcoming holiday season sale to ensure your online store aces it.
Peak Selling Season Checklist: 7 Ways to Prep your eCommerce Store for the Holidays
Scale resilient and additional infrastructure
With unbelievable prices comes unbelievable traffic. Increased web footfalls are ideal, but it builds a lot of stress and may cause glitches. An ill-functioning website should be the last of the worst things to happen to you on those huge festive sale days. But more often, it tends to be the first. Your servers may experience immense load, slow down pages, and collapse payment gateways.   
There goes a stunning potential sale opportunity downhill.   
However, you can avoid such mishaps by amping up your infrastructure as per holiday sale projections. Scaling up add-on infrastructure to the cloud is cost-effective compared to physical storage and easier to implement.   
With over 5 years of working with several D2C brands behind us, FarziCom enables you to build a resilient web architecture with unlimited customization options and shoulders your worry of a smooth and functioning website during holiday sales. We put together all the essential festive promotional functionality for your platform to scale your brand to new heights. 
2. Ensure the website runs smoothly before the holiday shopping season
Your platform must stress test to gauge the pressure more-than-usual visitors will exert on the website to avoid shutdowns on the D-day. Check it throughout before the season ramps up. You will not have the time to fix broken links or work on connection issues once live.  
Check essential functions like website navigation, coupon codes, payment and shipping calculators, and other vital areas. Adjust your requirement accordingly if the site cannot take the spike in visitors.  
Customers are highly impatient and will quickly jump platforms at the slightest inconvenience. Take measures to stay alert when issues arise. Monitor your uptime and address issues that would otherwise come to light only on customer complaints. This helps reduce downtime and increase sales.  
Boost your eCommerce sales by planning to maximize customer conversions.  
Wondering if you need to be super tech-savvy for all this? The answer is a straight No because FarziCom takes care of all your tech headaches, leaving you to focus on building your marketing strategies and the brand.
3. Optimize for mobile
With one in every third Indian shopping via their mobiles, it's best to capitalize on this and have a mobile-first approach on your website content. This is where FarziCom fits right in, given our focus on mobile-centric website designs. Rest assured knowing your online store to feature among the best places for on-the-go shoppers this peak selling season. 
You could include several features to enhance the mobile shopping experience to drive holiday shopping. A few are:      
Dynamic page serving for faster speed

Optimized use of the fold area

Optimized images for mobiles

Do away with pop-ups and sidebars for a cleaner interface

Pre-filled forms to save time and avoid errors
4. Optimize Check-out Page
A hassle-free checkout process is crucial for conversions. Additionally, the duration and design of the page can impact customer satisfaction levels. All you get is unhappy shopping experiences and checkout abandonment. With FarziCom, you can create a single-page checkout for a simpler process, and deliver a seamless customer experience. You could also focus on a few other design decisions such as:
 Minimal CTAs to prevent distractions. 

Customers often find surprise charges and costs at the checkout page. Declare charges and costs on the product page itself. 

Extend multiple payment options 
5. Amp up customer service
You will need an increased workforce during the peak selling season of holidays to meet the extra demand. Hiring more hands is one thing; another key is investing in CS improving technology. Include an almost exhaustive FAQ section, invest in bots to clarify regular queries to bring down employee intervention.  
The holiday sale period will indeed have customers call or email you with other unconventional queries. Strategies like automation that reduce response time and minimal call-back will help keep your sales targets in check.  
Customer service also includes a seamless UX of the website that helps customers find what they need on the online store.
6. Get creative with marketing strategies 
Work with micro-influencers
Instagram is a big deal for marketing today. Facebook's Festive Marketing Guide for 2021 undoubtedly declares social media to be the leading channel for brand discovery and eCommerce sales during the festive season. The report also highlights that half the people turn to influencers to help them discover new products, and 45% decide to buy a product with their help. 
You can span the marketing across social media platforms apart from Instagram to reach a wider audience online and grab more eyeballs. 
Start a Diwali or Christmas hashtag trend, just like Nykaa to get the buzz around the holiday season.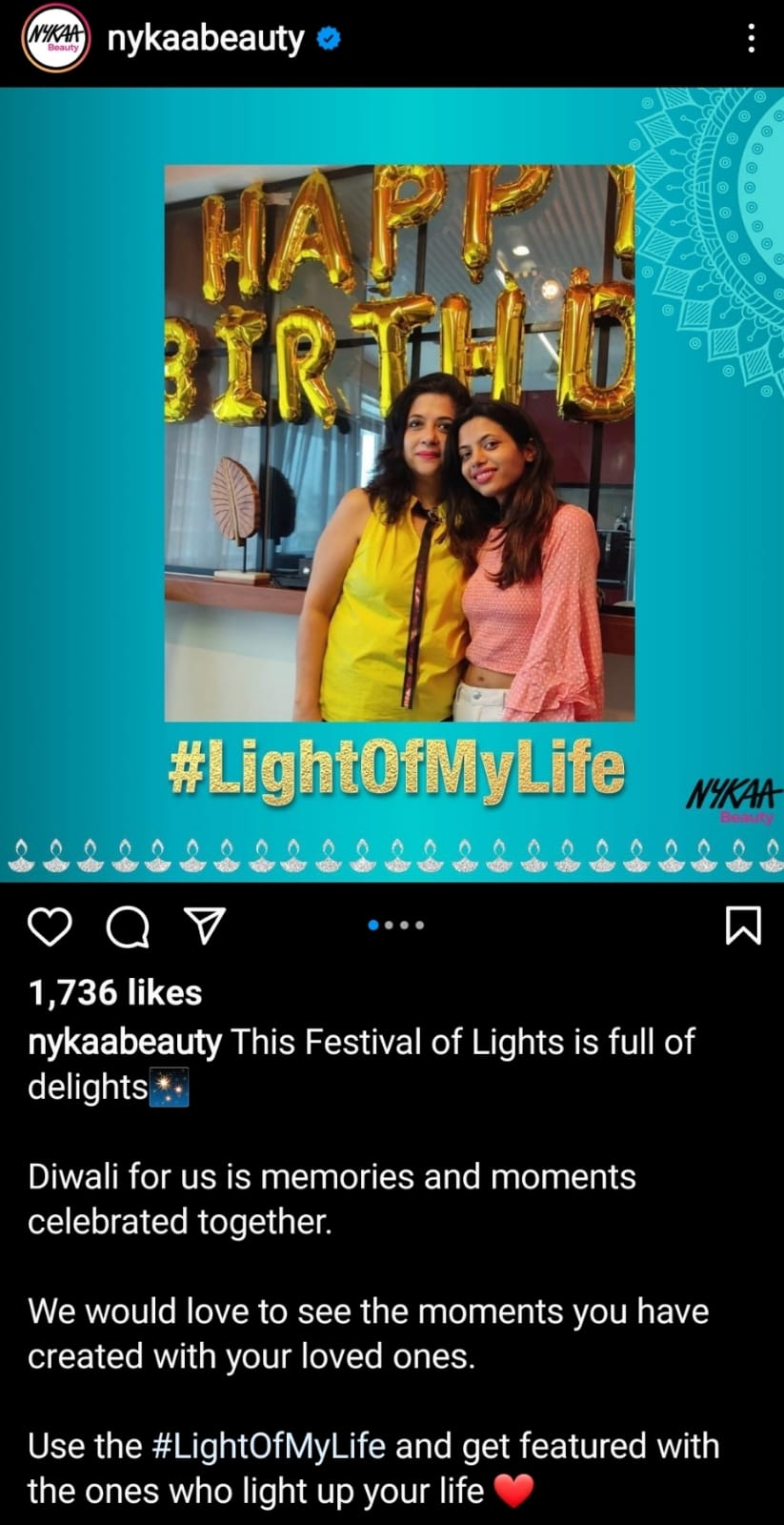 Increase urgency among customers
FOMO is real, and the peak selling season is the best time to leverage it. Create a sense of scarcity with shopping cart queues, countdowns, and low-stock alerts to hike sales. 
Look no further than Myntra for inspiration on this. Tickers, stock alerts and out-of-stock estimates fuel sales during festivals as customers eye exclusive products.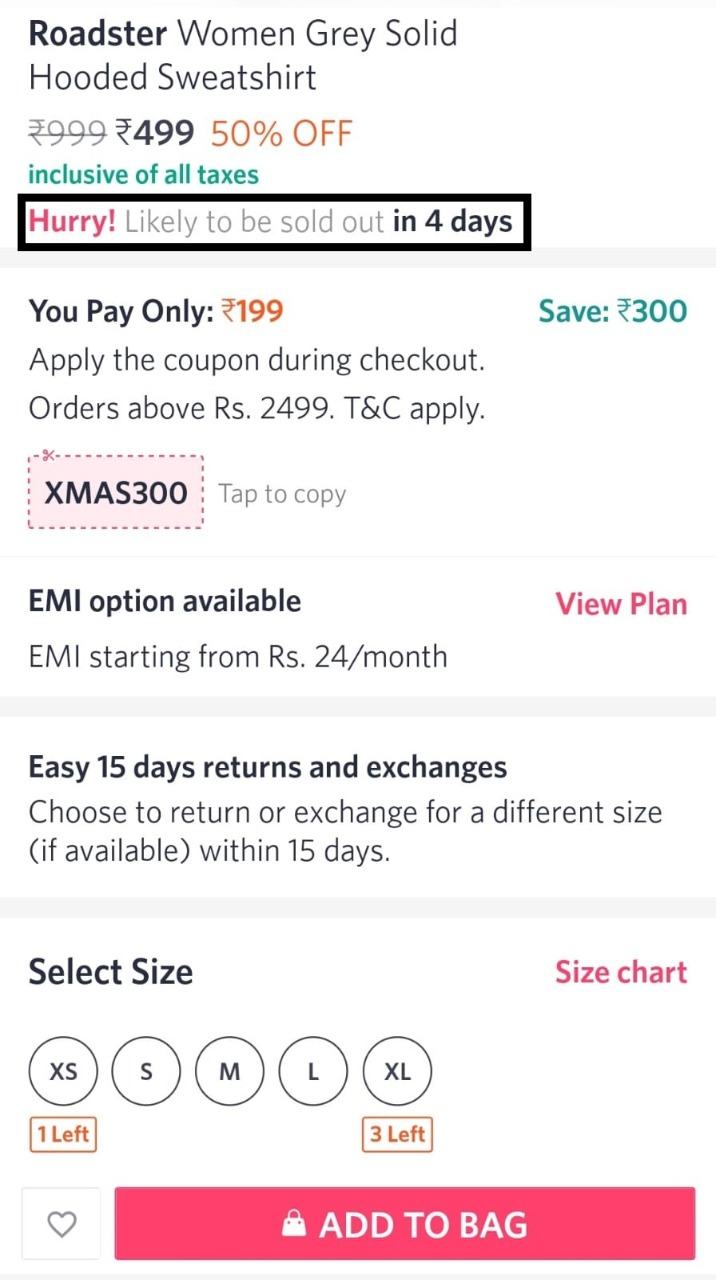 Provide loyal customers with unique discounts
You need to create reasons for customers to return to the online shop. Create loyalty programs and coupons for old customers when they shop during the sale. You can also start a holiday-special gift card service to be sent as presents. 
7. Build a reliable Logistics system
The holiday rush will require you to plan for additional orders and deliveries. You may choose to handle the packing and delivery in-house or outsource to a third-party vendor for the same. Whichever path you choose, consider using operations software to automate the procedure. Automation enhances inventory management, order fulfillment, and more when dealing with a high number of orders. 
Keep in mind essential points of action when devising the peak season strategy. A few of which are:  
Multiple delivery methods (public, private couriers, physical collection points)

Integrated warehouse system with the online storefront

Add shipping maps 
Wrapping Up
Planning in advance will help you stay at the top of your game in the upcoming holiday season. Use this checklist as a guide to steer through and prepare for the heightened traffic ahead. Creating a robust web infrastructure, prioritizing customer service, streamlining order processes, and placing user experience above all will help culminate the season on a sweet note.  
Include FarziCom to be your eCommerce operating software as it's the ultimate means to boost the tech infrastructure to avoid website crashes or long loading time, and many other ancillary benefits.