The What, Why, and How of SEO for eCommerce Websites
Paid ad methods like Google Adwords and Pay Per Click options may get you some traffic. However, with the advertising prices increasing by the hour, it's not the most feasible way to enhance your website traffic. That's where SEO comes in.
What is eCommerce SEO – The What!
eCommerce SEO is a holistic approach for making your website appear among the top search results for relevant keywords.
When an individual search for a particular query, your page will rank high on the SERP. As a result, you will automatically get higher organic traffic. Yes, you can gain this traffic through paid results as well. However, with the increasing number of ad blocks, why take the risk!
eCommerce SEO primarily comprises optimization of headings, meta title and description, product name, and services offered. You can use this strategy for all your product pages and other pages like Homepage, About page, Contact Us, etc.
How Does eCommerce SEO Affect ROI and Sales?
Any individual will search for a particular product or service to purchase it.
For example, if you sell printed dog collars, a consumer will type this phrase in the search box of search engines. Using such long-tail keywords can help your site gain traffic that converts, leading to higher ROI and sales.
Besides, when it is the best strategy for boosting ROI, why look for another option!
Why Does SEO Matter for Your e-Commerce Website – The Why!
According to a Content Discovery and Engagement Report by Obrain, search gets maximum organic traffic to the site – 41%. This beats traffic from social media by a whopping 300%.
If that is not enough a reason, take a look at these 5 unbeatable reasons why SEO is quintessential for eCommerce sites.
Enhance Online Visibility
If your site doesn't have enough visibility, it will appear on the later pages of search engines leading to lower ROI. SEO optimizes the product pages and other pages on your site through concrete keyword research, backlinks, and more, enhancing visibility.
Connect Your Site with a Larger Target Audience
Higher search engine ranking means a greater reach of your website. However, what's different here is this reach is towards your target audience. When you reach the right audience at a large level, ROI is bound to multiply.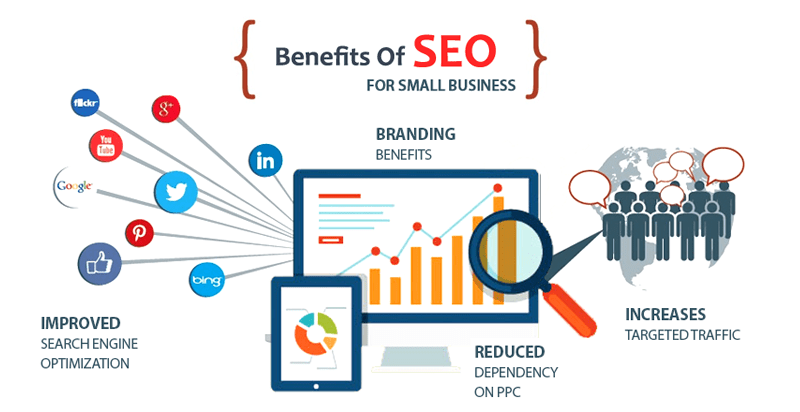 Cost-Effective Method
Are you considering paid advertisements for your eCommerce site to rank high? Well, SEO is relatively cost-effective and robust. You can use the saved money for other marketing opportunities.
Maintain A Sustainable Approach
Another unique feature of eCommerce SEO is its sustainable nature. Once you use SEO for your site to rank for a keyword, it will rank high for years to come without additional investment.
You Can Beat Competitors
If you search for 'white athletic shoes for men, ' Amazon ranks higher than Myntra and Flipkart. Moreover, Nike ranks higher than Adidas. On the other hand, search results for 'white sports shoes for men' show Myntra and Flipkart higher than Amazon. Plus, Adidas ranks higher than Nike.
How to Make SEO eCommerce Work – The How!
Though eCommerce SEO can give solid results, it will work only when you do it right. Before getting to the best practices for creating the perfect eCommerce SEO, here's how you can make it work.
Prioritizing the Product Page
Start with optimizing the product page that you wish to rank higher. Add the relevant keywords, build backlinks, and check the page's functionality.
Setting The Workflow
eCommerce SEO comprises multiple practices like searching for keywords, creating and marketing content, etc. Create the cycle you will follow to get the eCommerce SEO strategy right.
Assessing Competitors
Evaluate the different strategies that your top competitors are following for eCommerce SEO. This will help ensure you have a better approach.
eCommerce SEO Checklist: Actionable eCommerce SEO Strategies that Convert
Do you think eCommerce SEO is all about using keywords right? Well, it sure is one of the most critical aspects for eCommerce websites, but it is not enough. There is more. Check out the best practices for eCommerce SEO.
Conduct Targeted Keyword Research
Since it is, in fact, one of the most important aspects of eCommerce SEO, let's start with keyword research. It is an on-page SEO technique that helps your site rank better for the keywords relevant to your site.
When it comes to keyword research, you must consider a few aspects.
What's the Buyer Intent?
First, you must understand the buyer's intent. Are the buyers looking for multiple options, or have they already chosen the brand and model. For example, a buyer searching for 'best white shoes men' is still considering options. A buyer searching for 'Nike Air Jordan white men' knows the product he wants and is more likely to purchase.
Pro tip: Keywords with high CPC rates usually have high conversion rates.
Find the Keywords
You can use tools like Ubersuggest to find keywords and check your site rank for that keyword. You can also run a site audit, a.k.a., technical SEO with this tool. Other tools include Ahrefs, Google Keyword Planner, Semrush, and Moz.
Implement the Keywords
Once you have all the keywords you want to use for the website ranking, its time to add them to the following:
Headline

Meta title and meta description

Subheads

Throughout the page

Product description

Different web pages
Note: Only use keywords according to the keyword volume.
Incorporate Link Building SEO Strategy
Other than original content, search engines like Google greatly care about links, and hence, link building is an essential eCommerce SEO aspect.
Backlinks
Though this off-page SEO activity is relatively complex, it is the most important one.
According to a study by Backlinko, backlinks have the highest correlation with ranking for Google. If you have multiple links from trusted sources, search engines will consider your website more credible.
You can earn backlinks through:
Resource pages

Influencer partnerships

Invite web pages linking to your competitor's website for backlinks
Internal Links
Another essential aspect of link building is internal linking. Using a natural anchor text, you must link your web pages with one other to increase organic traffic.
Fix Broken Links
A crucial part of link building – fixing broken links. Your job does not end at getting backlinks from the best site. You must ensure they are maintained at all times.
Use tools like Ahrefs, DeadLinkChecker, and GitHub to find broken links. Once you have found them, send an email to the link owner regarding fixing the link.
Use Solid Content Marketing that Converts
While keywords and links are among the most important eCommerce SEO practices, they can only work for so long. If you want to rank high on the search engines' result pages, content marketing should be your next strategy.
According to Demandmetric, about 70% of individuals prefer learning about a brand from content instead of advertisements.
Content Marketing Tips
While that gives a lot of weightage to content marketing, you must ensure a few factors.
Only create authentic content. Do not plagiarize.

Write for your target audience

Use channels like social media and website

Create different types of articles on evergreen topics

Provide a solution

Track your performance through analysis tools
You can create blogs like Hubspot, infographics like Demandmetric, and videos like H&M that rank well on SERPs.
Maintain A Clean Website Structure
Good user experience occurs only when your site architecture or website structure is correct. Here are some proven tips:
Ensure easy to navigate and scannable site

Include multiple headings
The site architecture of your website can improve in two ways – URL and breadcrumb navigation.
URL
You must ensure your website's URL is SEO-friendly. Taking an example, it must be https://www.URL.com/blog. No additional text is required.
Breadcrumb Navigation
It refers to an eCommerce SEO strategy where users know their location on a website. They can see which web page they are on without checking the URL.
Never Mess-up with Technical SEO
Apart from primary techniques like keyword analysis and link building, eCommerce SEO also has a technical side.
Don't worry. You do not need coding knowledge for this (phew)!
To get the technical SEO of your eCommerce website right, you need to ensure a smooth user experience.
Domain Name
If you want visitors to browse your site without exiting, get only one right domain name. For example, if your domain name is https://www.xyz.com, make sure the other domain versions are direct to this one.
Tip: Google algorithm favors a domain name with HTTPS since it is the secured version.
Mobile UI
In 2021, about 72.9% of all eCommerce sales worldwide were made through a mobile device.  To make sure your customers have a smooth shopping experience, you need to make your site mobile-friendly.
Page Speed
Getting visitors to your site isn't the only goal. If you want the visitor to convert into a buyer, reduce the bounce rate as page speed significantly affects this aspect.
According to a report by Unbounce, 75% of 750 shoppers state that they will abandon a page if it doesn't load in 4 seconds.
To retain organic traffic on your website, you must ensure your eCommerce site's loading speed is good enough.
Other Search Engine Optimization Methods
eCommerce SEO practices are not yet over. From optimizing product pages to promoting them, the list is long. Here are some other search engine optimization methods.
Voice Search
As per Statista, voice shopping is expected to account for $40 billion by 2022. Optimize your eCommerce website for voice search to leverage this situation and rank high in search results.
The best way to do this is by adding an FAQ section to your web page. In this section, include answers to questions appearing in Google Search Console. You may also use Schema markup.
Local SEO
If you have a physical store along with your eCommerce store, this strategy is for you. Create local pages in line with your location. Doing this will help you make sure your site appears in search results of users searching for products near your region.
Example: If you're in Delhi searching for Nike, you will also get the details of its nearest store. These include the location, operating hours, contact number, and website. That's because of Local SEO.
eCommerce SEO Tactics for Your Website: Key Takeaways
eCommerce SEO is a proven approach to get your eCommerce website to rank in the top search results. While it may seem long and challenging, know that it will help drive sales and revenue for years to come.
How to Use the eCommerce SEO Best Practices?
Following the eCommerce SEO tips can be difficult. Here is a step-by-step process for you to ensure you're on the right track.
Conduct thorough research for keywords and find the top keywords related to your brand and product.

Optimize your web pages by inserting keywords, running a site audit, and meeting the technical SEO requirements like user experience.

Fix the site architecture and broken links.

Add relevant answers to your web pages to optimize for voice search and include geotags if you have an offline store.

Create and publish valuable content that helps your web pages rank well.

Add internal links to your content and gain backlinks from reputed sources.
If you're looking for ways to boost organic traffic, choose any of the given SEO practices, and it will multiply by hundreds. All you must do is implement it well.
Follow the tactics mentioned in this guide, and you will easily beat your competitors in the eCommerce SEO game!